And along comes...RASKIN
For the longest time I was seeking a new way to view everything and I mean everything on my computer. No matter how much one organizes things there's always something that slips away to never be found. Icons vanish, folders hide folders, etc.
And then along comes "RASKIN". A namesake to Jef Raskin, the one who started the Macintosh Project at Apple Computer long ago, Jef was a human-computer interface expert and this app shows a bit of him within it.
Always seeking to find or discover more within your machine, you can spend hours sometimes searching for various things without finding them. Viewing documents can involve launching an app and waiting for it to open, then viewing a document, and if you quit the app, then you have to do it all over again.
Wouldn't it be great to view the docs in a window...well you could use quicklook for, but what if you had 100 docs and wanted to look at them all at the same time? What then!
RASKIN!!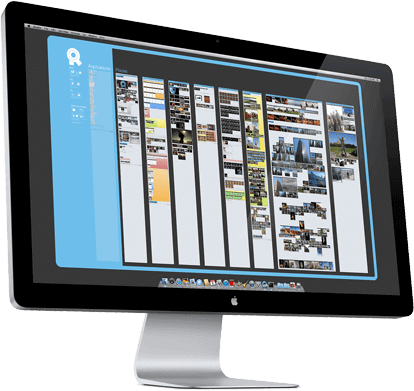 Raskin for Mac gives you a new way to look at everything on your computer at once.
Launch the app, and using your mouse navigate to where you wish to go, then hold a key down and ZOOM IN. Scroll to see your information, when you find that which you want to open...
Just a snap of part of the interface. Directions always close by to allow you to navigate without digging for a PDF or other document to read. Just scroll over and see what commands you need.
Want information about a specific item in your window? Simply zoom in on it and there it is. Size, type, extension, date created, date modified, name, etc.
Focus attention on an item by clicking on it. Its color will change to reflect focus. You can duplicate it, move it to a new location, change the color of the borders, etc., easily using either mouse or menu commands. Right clicking in the main window of an area allows you to sort that area by different criteria similar to folders. Bring focus to a folder area by double clicking in the name area of the folder item. The only reason am using folder here is it's something we all identify with. Getting used to viewing all of your documents which are normally buried in a folder, in a new way...will take a little getting used to.
It took me about 20 minutes to get into using this and now I can't get away from it. I've stopped using my search functions pretty much all together. I simply launch Raskin and say ok...where is that picture or music or doc I was searching for and BAM! I find it fast.
Granted there are some that will not find this app useful, but for those who are visual, this is a god-send to us who need to look at things to connect with them. Stop wondering what to search for by typing in a name of something, merely sort your areas by name and browse through them as if you would look for something on your desk.
Fast, effective, and definitely worth the price of purchase. In fact I would think they'd make this more expensive once they add some additional features into it. I can't wait till Apple creates a Kinect like interface to the Mac and this gets hooked to a projector!!! Imagine the sweeping motions running through areas to find docs, open them up, zoom into images, etc.
Only one thing got me when using this app. It's a bit of a grabber when it comes to memory. Not a bad thing, it's just one that eats a big chunk of it and holds it. On my 23" HD Display it grabbed just short of 1GB of RAM. That was a bit much, even when the app was hidden it still held that memory so nothing else could touch it. This was something that caught my eye, but the casual user might not even notice it.
Special thanks to the team who produced the app for answering questions and making the software available to me to use and review. Nice work folks.
RASKIN - A great way to look at your data...once again. See and find what you've been missing.
RASKIN For Mac - DOCMURDOCK APPROVED!!
Enjoy! And when you speak with them, let them know that DocMurdock sent you.
Michael Murdock, CEO, DocMurdock